VOICE OF CLIENT
ASAHI KASEI Corp.
BEMBERG AND NOTOKINU
Bemberg is the chemical fiber which Asahi Chemical Industry produces alone in the world. It is the material which has dignity of the silk and characteristic of the cotton with the cellulosic fiber made from cotton linters (downy hair around the cottonseed). The most important use of Bemberg is lining. It is placed in the best rank as lining by functionality such as elegant luster, soft texture, good sliding, moisture absorbing and releasing property, so continue adopted for a great number of world luxury brand at home and abroad. Because the thread of raw materials is extremely sensitive, the special technique that is different from other material, great effort and know-how are necessary for the process to produce lining for stable establishment and are not the thing which is possible for overnight.
The history of Notokinu dated back to the Meiji era, but the opportunity of our encounter was production of habutae silk in the late 20s of the Showa era. Demand for lining increased with domestic rapid westernization, and Notokinu became the main factory of the Bemberg lining afterwards. They continue challenging for pursuit of the quality and the improvement of productivity. They introduced innovation facilities including AJL in sequence quickly and came not to permit the following of other companies.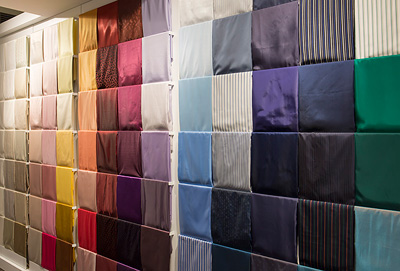 In today, Asahi Chemical Industry continues selling Bemberg lining while finally guarantees apparel quality responsibility, We cannot miss the cooperation with Notokinu as the strongest partner entrusted in peace as far as Asahi Chemical Industry continues Bemberg lining. 5th President Yoshihiro is younger and filled with energy and overflows, I believe that he lead the company with the strong leadership as a model of the textile maker to represent Hokuriku aria and Japan.
ASAHI KASEI Corp.
Primary Executive Officer / T.T.
2017/3/20

TOHKAI THERMO Co.,ltd.
ENCOUNTER WITH NOTOKINU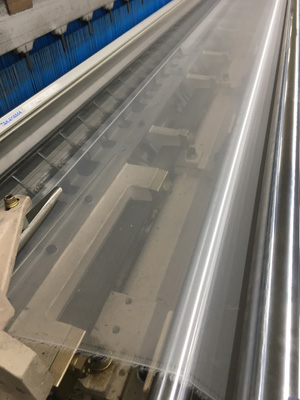 It is from the time when the polyester wooly finish yarn came to be used for our main product of adhesion padding material that business with Notokinu started. Nonwoven fabric was used for previous adhesion padding material mainly, and in the textile padding material, 100% of cotton and short fibers of T/C were mainstream.
With a brand called ETOLE® by the joint development with a certain synthetic fiber maker in 1985, we marketed the polyester wooly finish yarn padding material for the first time in the world. In those days fortunately, new synthetic fiber fabric came to be popular, and we received an evaluation that ETOLE was very suitable for it and was able to gradually extend a volume.
The high versatility of this padding material was recognized, volumes increased in an instant, and it became the anchor product of the whole industry as well as us. Afterword it became necessary for us to build the supply background in real earnest. In those days, because purchase of the synthetic fiber cloth was inexperienced, we depended on the supplier for it, but looked for the partner who could wrestle well, in trial and error.
Meanwhile, we obtained an opportunity to talk directly with Notokinu, and business started. They was run with the technique and capital power that they cultivated for many years as the main cloth production factory of Bemberg® extremely well in those days. Their expectation that they want to make another main product which is different from Bemberg lining, unite ours that we want to make the reliable main supplier of cloth for our padding material, and business started well.
The business unfolded to thinner product mainly on cloth for 30 denier processed yarn padding material of the main product. Afterword they became our main supplier early.
However, on the other hand, the industry environment changed by the strong yen and the rise of Chinese maker variously, we also came to produce the padding material production in China for the next 2002. Notokinu went into China earlier than us, and made the cloth plant for padding materials in Ningbo, we felt it to be very stouthearted. It was saved very much to have been able to supply cloth for the thin padding materials characterizing us steadily in China.
For 10 several years, time passed, but our company establishes a pivot leg for the production in Japan under such an environment and runs it afterward. We raises a strategy contributing to the customers of the world not to mention for the domestic market with the attractive product as a Japanese maker. On the other hand, in Notokinu, the baton was succeeded well in 5th Yoshihiro by 4th Ichiro, while the supplier continuing domestic production in such situation year by year decreases, and they touches power more and more as a company with the development capability to cope with it precisely and quickly, however the needs of the market is early and to greatly change. I think Notokinu is reliable and is a good partner for us, and we should be able to continue as textile materials maker representative of Japan, while improving together by encouraging each other.
TOHKAI THERMO Co.,Ltd.
President / K.A.
2016/12/1

TSUDAKOMA Corp.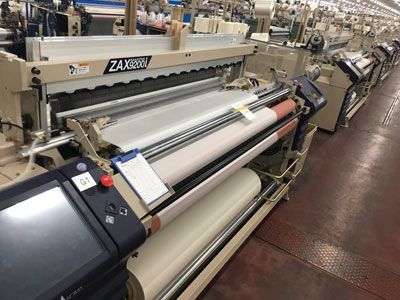 Tsudakoma expresses our great appreciation to Notokinu Co., Ltd. for using Tsudakoma's latest model "ZAX9200i" air jet looms, which are being installed, as well as for their long and consistent relationship.
From the "ZA100" with mechanical valves in 1979 to today's fully electric "ZAX9200i," Notokinu has supported air jet loom development for over three decades by applying the latest technologies. Tsudakoma highly appreciates and respects their drive and determination.
Notokinu targets not only chemical (regenerated fiber) filament yarns which has been their prime objective from the beginning, but now synthetic filament yarns and spun yarns.
Their versatility and expansion of the weaving range represent the current age in a way.
It is a responsibility to respond to such requests for machine manufacturers. Notokinu is the user of users that encourages and challenges Tsudakoma to improve loom technology.
In recent years, energy saving, mainly by reducing air consumption on air jet looms, is required as an important factor, in addition to the weaving technology. Notokinu has had intense interest in this point from early on, has pointed Tsudakoma in the right direction, and has studied together with Tsudakoma.
Although the environment could intensely change with higher speeds in the future, Tsudakoma is willing to strive together with Notokinu for their continued success.
TSUDAKOMA Corp.
Textile Machinery Division Sales Dept. / H.K.
2016/11/17

LA40 development supervisor
AJL OF NOTOKINU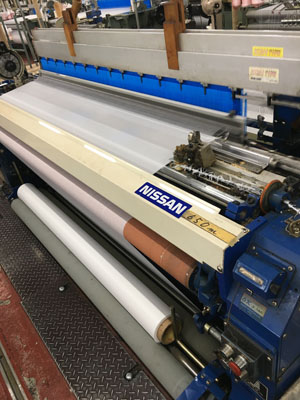 Now Notokinu is one of the most advanced AJL weaver in the world. It is the machine Nissan"LA40"type introduced more than 30 years ago prior to other weavers.
In those days, WJL (Water Jet Loom) entered global introduction period, but AJL was still far for practical use in the situation that each maker groped for various methods about weft insertion.
4th President Ichiro Noto predicted the arrival of the AJL era, and decided great switch to developing AJL LA40 type daringly, though it was still developed, and have many problems about productivity and fabric quality.
I think there is a reason of the later development of Notokinu in these actions.
One of things at first, they worked on development including basic function and performance together all in one body with us. For perfect weaving of very delicate thread Bemberg®, They investigated development necessary for weaving from the principle including a reed, a sub-nozzle and wrestled in cooperation with us until accomplished as a product, and with enthusiasm to build up AJL for filaments.
At second, they make much important of technical process and accumulation.
Now they introduced the latest AJL made in Tsudakoma, and the worldwide first class weaving technique was taken in , but on the other hand, managed well various weaving machines introduced including AJL LA40 type until now.
Particularly, we were often taught for investigation of the most suitable weft insertion based on the flight (movement) of thread.
I hope Notokinu, as pioneer of AJL weaver, aim at ultimate machine and continue to search weaving technology, and thank for their help for development of Nissan AJL.
The former NISSAN MOTOR Textile Machinery Division
LA40 development supervisor / Y.S.
2016/9/20